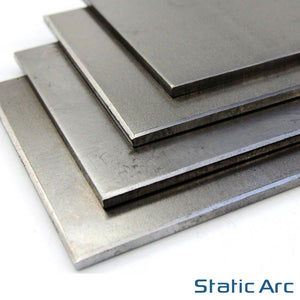 Suitable for welding and painting, easy to machine cut and drill. Ideal for automotive repair work, general patch work and fabrication.

- Available Thickness: 0.8mm, 1.0mm, 1.2mm, 1.5mm, 2.0mm, 3.0mm, 4.0mm, 5.0mm
- Available Size: 100x100mm, 200x200mm, 300x300mm, 400x400mm
- Metal Type: Black steel grade
- Magnetic

CHOOSE THE SIZE YOU REQUIRE FROM THE OPTIONS AT THE TOP OF THE PAGE

NOTE
- For efficiency sheets are pre-cut to size, unfortunately we do not provide a cutting service for specific sizes.
- Cut dimensions will have a tolerance of +/- 2%
- In some cases sheets may arrive with light surface rust this is unavoidable when storing mild steel, you can easily remove with WD40 or fine grade sanding.